The New Venture Fund collaborates with change leaders to build a fair, healthy, and sustainable world for all people. We help implement a range of public-interest projects on issues such as conservation, global health, public policy, international development, education, disaster recovery, and the arts.
We do this by supporting projects that share our purpose of creating positive impact, providing an avenue for innovative approaches and bold action. Using the fiscal sponsorship model, we ensure that leaders have the operational assistance and expertise they need to drive change.
What is our Model?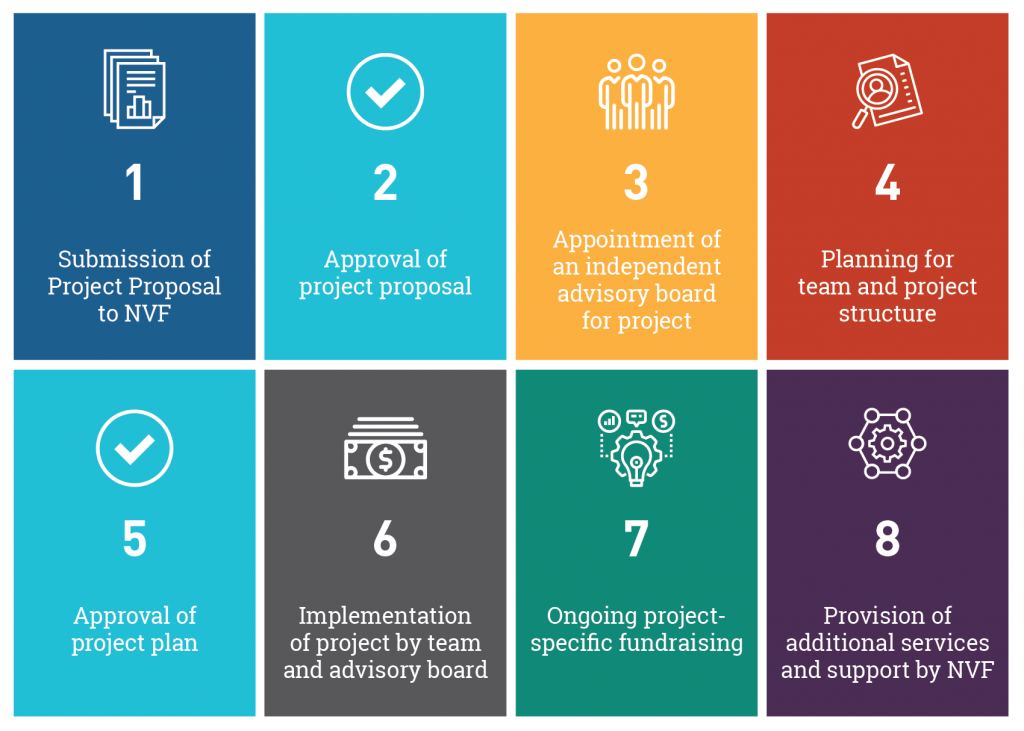 Since our creation in 2006, we've looked to creatively solve problems by building on an established model known as fiscal sponsorship, which provides operational expertise to our change leaders to save them time, energy, and resources.
Fiscal sponsorship is a tool that allows us, our projects, our partners, and our staff to drive change in a more efficient, cost-effective, and time-saving way.
Fiscal sponsors, like the New Venture Fund, are nonprofit organizations that house projects for people or groups who want to engage in charitable activities. Fiscal sponsors serve as the administrative host of projects so that projects don't have to go to the trouble and expense of establishing themselves as independent nonprofit organizations.
This is a practice that has existed since the 1950s, when the parts of the tax code that govern the nonprofit sector were written. While any nonprofit can provide fiscal sponsorship to a project, over the last decade, the New Venture Fund and other organizations established a model of professional fiscal sponsorship. This model, where an organization has a mission to provide fiscal sponsorship, has reshaped the sector and provided a valuable platform for charitable work.
To learn more about fiscal sponsorship, check out our FAQ.
Why Create a Project at the New Venture Fund Instead of Creating a New Nonprofit?
There are a number of reasons a project would want to work through a fiscal sponsor – you intend to establish an independent nonprofit, but want to accept funds right away; your project is short term in nature, like some of our work that responds to immediate needs like the war in Ukraine; you want to create a donor collaborative, where many funders are working together on the same issue; you want to take advantage of specialized expertise we can offer, such as advocacy and lobbying compliance; or you simply want to save the time and money associated with running a separate nonprofit. 
How Do Proposals Become New Venture Fund Projects?
Projects start as ideas conceptualized by change leaders across the philanthropy and nonprofit sectors. Before submitting a project proposal to the New Venture Fund, these innovators identify potential funders and create a plan to achieve their goal.
Every proposal submitted to the New Venture Fund is reviewed thoroughly to ensure alignment with our values and compliance with nonprofit law. Once a proposal becomes an approved project, we work collaboratively with the project and donors to create an independent advisory board that has extensive experience to advise and govern. We then match them with a team that can help them achieve impact, while our staff supports coordination between projects and donors and provides operational expertise to all.
The Role of Advisory Boards
Every New Venture Fund project has its own advisory board. The advisory board is tasked with making recommendations to New Venture Fund leadership to ensure that the project's mission is implemented appropriately and successfully. The advisory board provides guidance on project strategy and planning, governance oversight, and financial management. These advisory boards have a three-member minimum, but many are larger based on the complexity of the project or number of stakeholders involved.
The New Venture Fund has its own Board of Directors, which has ultimate legal and fiduciary responsibility for the New Venture Fund and its projects. The New Venture Fund board has ultimate legal responsibility for the oversight and implementation of the projects, as well as for compliance with all financial, employment, and governmental laws and regulations.
Financial Information
Many individuals and institutions donate to the New Venture Fund with the goal of creating change and having an impact on tackling big challenges that are facing our nation and the world. The New Venture Fund files annual Form 990 tax forms. Please find our most recent filings below.
Please click here for the New Venture Fund's 2021 Form 990.
Please click here for the New Venture Fund's 2020 Form 990.