With back-to-school season in full swing, parents across the country are engaged in similar conversations about school choice and quality, including families with our youngest learners. The landscape of early childhood education is vast, and not all options are created equal. Connecting young children to quality learning environments is a critical step in supporting their development and strengthening our communities and our economy.
When the two founders of Trust for Learning began considering these issues for their own children more than 12 years ago, they were inspired by one question: Why were their families able and encouraged to access holistic, highly personalized learning for their young children, while other families were not? Their young children were in a Montessori program that supported their development through exploration, choice, and deep engagement with materials and the environment. Educators in this learning environment served as expert guides, supporting each child to develop at their own pace through joyful learning opportunities. Later, the Trust would begin to call these equitably, engaging, play-based models "ideal learning environments."
Disparities in Early Childhood Education
The first step to address this question was understanding the scope of the problem, and so the McCall-Kulak Foundation and the McTeague Family Foundation pooled their funding to launch a landscape review. To ensure their research findings reflected the experience and needs of those most directly affected by the issue, the newly founded Trust consulted with educators, parents, and scientists to explore the extent of the inequities in early childhood education.
Put simply, the extent of what the Trust found was staggering. Their internal findings suggested that no more than 10 percent of young children could access ideal early childhood learning environments, and the actual figure could be as low as 1 percent. The issue is highly intersectional, with families of color, children with disabilities, multilingual households, and low- to middle-income families all disproportionately likely to lack access.
With this, Trust for Learning had its mission: to expand high-quality, whole-child, active learning programs so every young child—especially those who have been historically underserved—could access them. More than a decade later, it uses a three-pronged strategy to do so that encompasses direct investment, thought leadership to shape the national conversation, and equitable movement building to drive change. Racial equity and inclusion and the nine principles of ideal learning environments provide a lens for all of the Trust's work.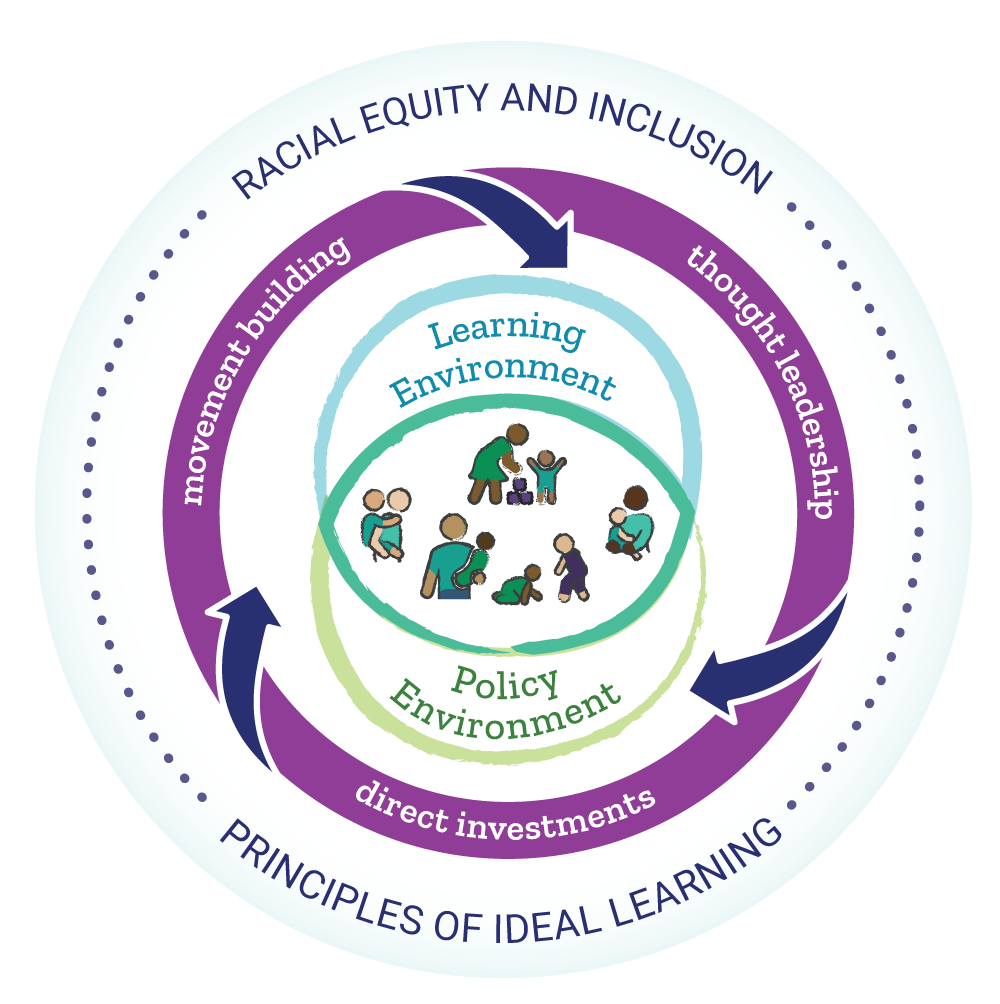 Prioritizing Best Practices
Today, Trust for Learning has a staff of six and more than 10 partner funders around the country, with more joining the cause each year. The Trust believes that every child has unlimited potential, and that funders can help ensure all publicly funded programs align with the science and practice of ideal learning (IL) environments.
"The old saying goes that kids are sponges, but they aren't: they're tiny statisticians," explains Ellen Roche, who served as executive director from 2018–2022 and now co-directs the Trust with Toscha Blalock and Chrisanne Gayl. "They're always taking in information and analyzing it, whether it's at a school or at childcare or at grandma's house. At the Trust, we support all educational approaches that encourage and nurture children's natural, innate drive to learn and grow."
One major focus for the Trust is Head Start and Early Head Start, the federally funded early childhood programs for children from underserved families ages prenatal to five. Head Start is a powerful vehicle connecting these children to opportunity, but not all programs follow the same educational model, and the Trust has identified many meaningful opportunities to promote whole-child approaches based on IL principles.
The Trust's Head Start efforts address the issue from multiple vantage points. From a direct-service perspective, it has invested in six on-the-ground partner organizations working to implement IL principles in Head Start, and it hopes to issue many more grants in the future. It also launched the Ideal Learning Head Start Network, a coalition of more than 30 early childhood education providers serving 12,000 children. Members of the coalition share with the group and the Trust how they have integrated IL principles into their Head Start programs, as well as what resources are necessary to achieve this work on a broader scale.
Advocating for Change
Tackling inequities in early childhood education is a tall order, and Trust for Learning's small but mighty team knew it could achieve more with an operational partner to share the load. As a fiscally sponsored project at the New Venture Fund, the Trust receives HR support and highly customized financial management services from its NVF team, allowing its own staff members to focus their attention and effort on programmatic challenges.
The Trust's relationship with NVF is more than administrative, however. "NVF gives us an extended brain trust that can support us through both the mundane challenges and the strategic work we do," says Roche. "With NVF by our side, we have the capacity to dig in and try new things."
For example, the Trust has been exploring new avenues to impact through policy advocacy. With support and guidance from its NVF team, the Trust is leading media efforts and developing policy briefs to encourage Head Start to incorporate more IL practices. With Head Start's potential federal reauthorization on the horizon, the Trust's partners are also advocating for crucial changes including program regulations and practices that truly serve the learning needs of all students.
What's Next
As Trust for Learning embarks on its next three-year strategic plan, media outreach and narrative change will remain a core part of its operations. And not only does the Trust want to shift how the US talks about early childhood education, it also wants to shift who is invited to talk about it.
"The perspectives that often make it into the media on early childhood don't reflect the people most affected by the issue," says Roche. "Overwhelmingly, educators are women, particularly women of color, but they are not generally invited to speak as experts."
The Trust is working to shift that, partnering with PR firm West End Strategy to amplify the voices of partners around the country. The investment has paid off exponentially. As one example, the Trust helped connect board member and partner Ellicia Lanier with reporters, a conversation that ended up being featured on the cover of USA Today. It also regularly circulates a newsletter that shares resources from its partners, with tips and support for both educators and parents to invite more people into the conversation.
"Everyone has a part to play in this work," says Tobi Adejumo, the Trust's movement-building and marketing manager, "whether it's advocating for play and discovery or becoming better informed about the issues. Young children can't participate in national conversations themselves, so it falls to educators, parents, and the public to speak up for them."
Roche agrees, underlining the importance of the work. "Yes, the 10,000 children born in the US every day hold the key to our future, but they're also experiencing their lives today." she says. "Early childhood is an incredibly rewarding place to invest collectively. When we do, we change both the present and the future for children, their families, and our country."